Hidden in Pewaukee, WI is the home of the best g-free baked goods I've ever had, Molly's Gluten-Free Bakery. They have an extensive menu from brownies to pita bread to sheet cakes. I've only tried a few things so far, but everything I've tried hasn't disappointed.
The most recent purchases were rolls and  a cake for my dad's 50th birthday. Vanilla cake / vanilla frosting (he's a boring guy, what can I say?) – but it was AMAZING. You couldn't tell it was g-free. Usually g-free baked goods leave a weird feeling in my mouth. Not Molly's cake! And those rolls… wow. Plain, they were delicious. Warmed up, they were delicious x500. It's not easy to bake soft and moist g-free foods, but Molly's has mastered it.
Previously I've had their raspberry dream cakes, which are small cake sandwiches with raspberry cream filling. The cake part tasted like a Twinkie but felt a bit heavier. It was so delicious. I should learn some more adjectives, but really, there are no words for something this yummy.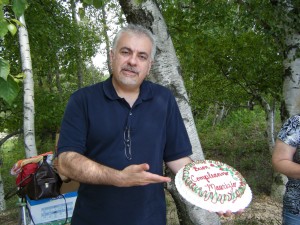 I can't wait to try everything on their menu! Has anyone else been to Molly's? Was it as fabulous as my experience?
Molly's G-Free Grade = A+