Since I don't like "awareness" days of any kind, I chose not to celebrate or announce it yesterday. What is the point of an awareness day when most of today's society is aware of situations and they just don't care? Or don't have the means or time to take action?
Instead of a boring list of what does and doesn't have gluten, and why you should care, here is a fun article for the Day After Celiac Awareness Day:
Gluten-free Celebrities
1. Rachel Weisz – didn't even know who this was until I googled her. Apparently she was in a lot of movies and married Daniel Craig.
2. Elisabeth Hasselbeck – LOVE her. She's on The View and wrote an amazing g-free diet book that I highly recommend to anyone, even non-Celiacs (see the lovely quote from the book below.)
3. Ryan Phillippe – hottie actor from my youth. Has he been in anything good recently?
4. Geri Halliwell – Ginger Spice, my 2nd favorite Spice Girl (Posh, Ginger, Sporty, Scary, Baby – in that order).
5. Emmy Rossum – didn't know who this was either, an actress who sings? She's in the movie Dare, which just happens to be in my Netflix queue. Maybe I'll watch it now.
6. Chelsea Clinton – daughter of the former president. She's not that interesting, probably because she's a vegan and that's just weird.
7. Bill Clinton – former prez. He insulted my dad and Italians one time when my dad met him and chatted him up. Slightly more interesting than Chelsea.
8. Zooey Deschanel – LOVE her. Can't wait for the new series New Girl to start on TV this fall. I loved her mostly in Elf, Weeds and Failure to Launch.
Each meal left me bloated and gassy, with  sharp, explosive pains in my abdomen. No matter what I ate, I would soon be doubled over with cramps, awful indigestion, diarrhea – or all of the above simultaneously. I soon became all too familiar with the location of any and all bathrooms.

-The G-Free Diet: A Gluten-Free Survival Guide, page 5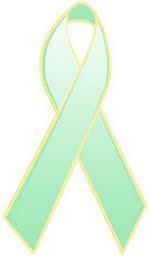 I didn't know the Celiac awareness color was light green when I made this blog. How fitting.