The moment I read that Molly's G-Free Bakery was teaming up with this fabulous restaurant, I knew amazing things were in store. My regular Friday-night-dinner out was spent at Chili Lili's Chili Bar a few months ago and it was amazing. They have a great menu of chilies and foods to put chili on and in. Not only that, but they promise to make anything allergy-free by altering their ingredients.
Last visit, I had the traditional Cincinnati chili over waffle fries. It was the best and weirdest chili I've ever had- tasted like there was cinnamon in the recipe. (After looking into this chili phenomenon it seems that cinnamon is an ingredient.) I didn't go out of my way to make sure the meal was g-free, but I didn't get sick so I think that meal would be safe for anyone else who is a sensitive Celiac. The waiter at my recent visit said the Cincinnati was g-full so I ordered the Spicy Pizza chili over fries. I felt bad doing a review without trying the bread, courtesy of Molly's, so I cheated even more on my South Beach Diet Phase 1 (no carbs) to be able to honestly say that Molly's garlic bread at Lilli's is AMAZING. They also serve rolls to make any of the sandwiches that Lili's offers.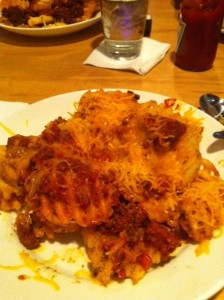 Pros:
They know what's g-free and what ingredients are in their foods.
The chili tastes amazing and is healthy (extras like mac & cheese or fries probably aren't as healthy).
They serve Molly's bread.
Prices are very reasonable and affordable.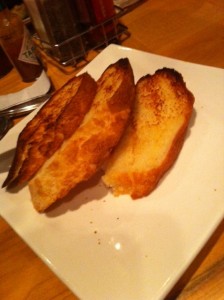 Notice the bread bending in the picture? That's because it's SOFT. If you've had any g-free bread, you would know that most are crumbly and disgusting and dry. This bread was soft and delicious, with a perfectly toasted crust.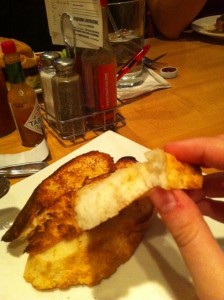 Cons:
Long wait (at least for this visit): The wait was 45 minutes! For 5 people in a slightly empty place, food should have been up in no time. And one person ordered a burger done medium, so that also should have been fairly quick.
Poor service : When the food came, there was no order of magical garlic bread and the burger was burnt and well-done. (Burger was obviously sent back and later refunded.) The waitstaff never asked how the burger was to make sure it was done the right way… then the bread finally came a bit after… then I had my special "oh my god I am eating delicious g-free bread" moment…. and then after the table was done eating, out came a new burger (another 30 minute wait).
I have never had to wait so long (or witness someone else waiting) for food. There was a small party going on but they were mostly drinking, not really seated to eat. And the other 4 patrons in the place weren't eating. I don't know what was wrong with the kitchen that night…
I would recommend going when you aren't starving. Just in case.
G-Free Grade = B-