Last week I ventured to the WI State Fair to see all the best that my state has to offer. Generally, fairs and festivals are my least favorite places (despite my love of people watching) because I can't safely eat anything.
This year's fair had deep-fried everything: candy bars, veggies, s'mores, cookies, butter, pies… and all could be eaten from a stick. I was jealous that my husband could eat whatever he wanted.
I was lucky because this year I tried Slim McGinn's basket of homemade potato chips that may not have been labeled "gluten-free", but they didn't make me sick (quite a risk eating them, but I was hungry!). Of course, that wasn't as wonderful as seeing Molly's Gluten Free Bakery supplying Robert's Restaurant with hamburger buns.
It was expensive, and the bread was dry (likely from leaving it out… I know how food booths work), but it was nice to eat a meal and know I wouldn't get sick. Thanks for being awesome, Molly's!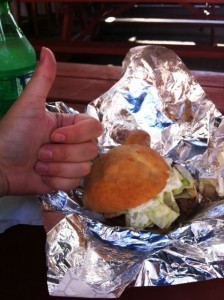 G-Free Grade = B